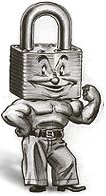 <![if !vml]>
<![endif]>
---
---
A: It is possible to obtain replacement keys for your padlock if you know the key number. The key number is stamped on the original keys provided with your lock. If you do not know the key number it may be possible to make keys by "impressioning" them from the lock, however, this task is time consuming and can be more expensive than a replacement lock. If you know the key number, simply contact a locksmith in your area. Please note that the locksmith will charge you a fee for this service so please call ahead.
---
Q: I would like to purchase additional keys for my padlock, can those be copied?
A:
You may take one of your keys to a local locksmith where they can cut duplicate keys. Please note that not every store will have the appropriate key blanks available so you might want to call ahead.
---
Q: How can I get a new key for my lock if the hardware store couldn't find a replacement?
A: It is not always possible to get a replacement key for every model of lock, as some are restricted. If your hardware store can't get one for you since they don't carry a wide selection, please check with a local locksmith. If they are also unable to get a replacement, you may have to purchase a new lock.
---
Q: We lost both keys to our lock during a move. Now we are unable to get some important records out of storage. What should we do?
A: If you did not record the key number, which was stamped on the original keys that came with your lock, it is not possible to obtain replacement keys. Contact your local locksmith for removal. If you know the key number a locksmith can "code cut" most keys.
---
Q: Is it possible to order a new lock that will fit my key? I have a key that doesn't fit my existing locks.
A: It may be possible to order products that can be opened by an existing padlock key, depending on the brand. Take your key and/or lock to a locksmith that sells padlocks and ask them to order the product with the same key number that is on your key. Please call ahead, as not every retailer will provide this service, and some may charge a fee. In some cases, the charge for this service could be more than the cost of purchasing a lock off the shelf.
---
Q: What is the dialing sequence to open a standard combination Master Lock?
A: Please follow the steps outlined below:
Turn the dial 3 times to the right and stop on the first number of the sequence

Turn the dial to the left, pass the second number of the sequence and stop on it the second time around

Turn the dial to the right and stop on the third number of the sequence
Pull up on the shackle
---
Q: I have a Master Lock padlock that only opens occasionally. What can I do?
A: Every Master Lock padlock is ruggedly built for long life and trouble-free service. With minimal care, your Master Lock padlock will provide security and smooth operation for many years to come.
Here are a few tips that will help you keep your padlocks working efficiently:
1. Lubricate padlocks periodically with a light machine oil. Do not use graphite in any form! Your Master Lock padlock is a precision instrument, and graphite may actually cause the locking mechanism to stick. Apply oil in both the keyway and shackle openings.
2. Padlocks used outdoors may require occasional cleaning. To do this, submerse them overnight in kerosene -- let them dry thoroughly -- and apply oil.
3. Your padlock is only as strong as the hasp on which it is hung. Use only a strong, plated hasp with concealed screws. A non-plated hasp will cause rust to drip down through the shackle opening into the mechanism of your padlock.
4. When a padlock is operated infrequently or exposed to severe weather conditions, internal working parts may become tight. In these cases, it is suggested that you exert a slight downward pressure on the shackle while the key is being turned. Doing this 3 or 4 times will relieve any tension and will usually restore easy and normal operation of the padlock.
---
www.Azteclocksmith.com
© 2012 Aztec Locksmith. All rights reserved.
Revised: 05/15/15.