Cars For Sale:
Please feel free to contact us with any questions you have on these vehicles you can email us @ sales@azteclocksmith.com or you can call us at (918) 341-1077. Calls are answered Monday thru Friday 8:30-5:00 CDT. We are located in 1812 North Lynn Riggs Blvd, Claremore OK @ Aztec Locksmith
1992 Honda Accord EX Wagon
Condition : Used
VIN# 1HGCB9878NA005754
Mileage: 186789
$2300.00
This is a 1992 Honda Accord EX Wagon. The car has a 2.2L 4 cylinder engine with an automatic transmission. This car starts and runs great. The picture shows the car with a donut on the left front, but I do have the correct tire for the car it is just not installed. I bought this as a project car but never actually did anything with it. Minor dent on the drivers side fender. I got the car in march of 2007 and I was able to find some of the previous maintance history see below. I have only made a timing adjustment to the car. Also see the pictures below. This car would make a great grocery getter, or to haul the kids equipment to the sports games. Please contact us if you have any questions about the car.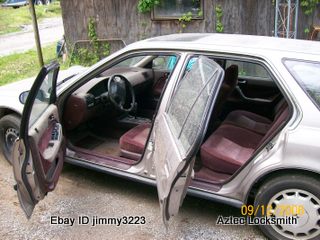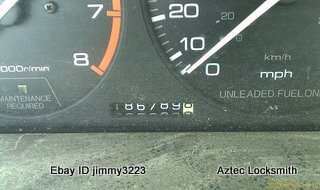 Here is a copy of my maintance log
| | | | |
| --- | --- | --- | --- |
| Date | Mileage | Type of Work | Material Use |
| January 6, 1999 | | New windshield install by Dunlap Glass | |
| February 2, 1999 | 93700 | Timing Belt $33.66 | Auto Oasis |
| February 2, 1999 | 93700 | Cam Seal $3.68 | Auto Oasis |
| February 2, 1999 | 93700 | Labor to renew timing belt and cam seal $185 | Auto Oasis |
| February 22, 1999 | 93700 | Balance Shaft Belt $16.27 | Auto Oasis |
| April 1, 1999 | 95812 | Tire rotate by Wal-Mart | |
| July 3, 1999 | | Disc Pad Set "Lifetime warrantee" Item # MKD503 | Oreilly |
| March 29, 2000 | | Rear Brake Pad Lifetime warrantee Prt # D537 Albany $13.07 | Auto Zone |
| March 30, 2000 | | Replace right rear disc brake caliber $137.33 | Auto Zone |
| June 5, 2000 | | Bosch 4230 # 304964 $7.80 | Auto Zone |
| June 15, 2000 | | Fuel Filter $17.40 | Auto Oasis |
| June 15, 2000 | | Valve Cover Gasket $33.23 | Auto Oasis |
| June 15, 2000 | | Labor to replace valve Cover adjust valve $55 | Auto Oasis |
| June 15, 2000 | | Labor to renew fuel filter $10 | Auto Oasis |
| June 15, 2000 | | Labor to scope check ignition diagnose vacuum leak on #4 | Auto Oasis |
| June 15, 2000 | | cylinder $25 | |
| June 23, 2000 | | Intake Gasket replace $14.52 | Auto Oasis |
| June 23, 2000 | | anti-Freeze $6 | Auto Oasis |
| June 23, 2000 | | Labor to replace intake Gasket $193 | Auto Oasis |
| October 31, 2000 | | New Distributor OEM Honda # 06301-PT-A20 $101.25 | Auto Oasis |
| October 31, 2000 | | New Rotor $7.00 | Auto Oasis |
| October 31, 2000 | | Labor to install new distributor $45 | |
| November 1, 2000 | | Exchange 2 tires? Wal-Mart | |
| January 28, 2002 | 128513 | Tire rotate by Wal-Mart | |
| January 30, 2006 | | DT-3 Car battery install by Wal-Mart | |